Because Station Edition G1 could be powered by either USB Type C (PD Protocol with minimum 9V2A is required) or 2Pins Socket (Pitch=2.5mm, 8VDC-20VDC, 2A minimum). Power supply choice is very convenient, so that
Battery Docker has been discontinued

.
Key Features
10cm*9.6cm*2.7cm, ~65g (Without Batteries)
Powered by USB TypeC (PD Protocol with minimum 15V2A is required)
Capable to charge 3*18650 Lithium Batteries (

Batteries are NOT included in the Shipping Package

)
2A MAX Charging Current
Multi protection features, such as Battery Temperature Monitoring, Overcharge/Overdischarge Protection, Overcurrent Protection, etc.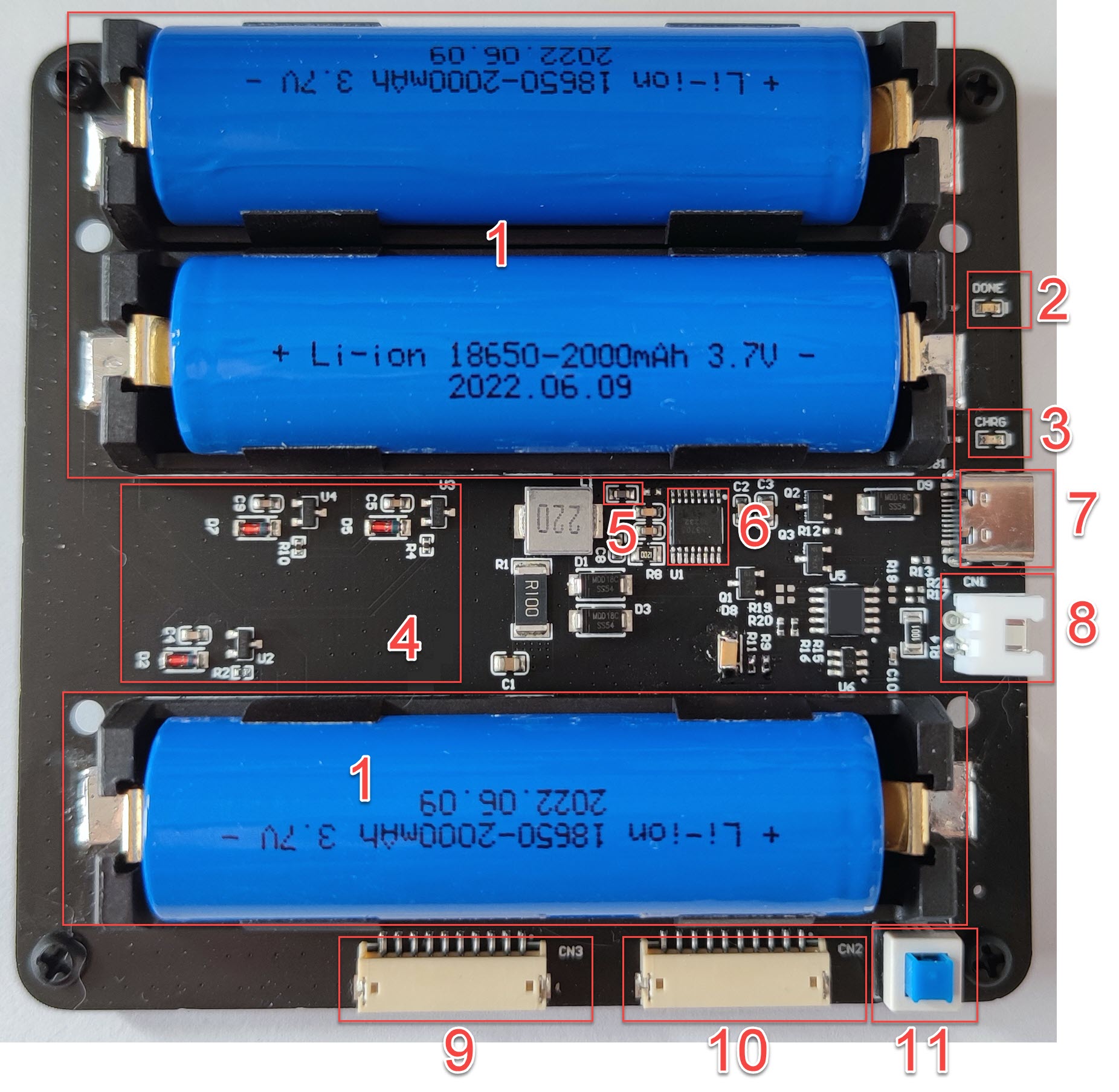 | No. | Description |
| --- | --- |
| 1 | 18650 Batteries |
| 2 | LED Indicator (Green) for fully charged status |
| 3 | LED Indicator (Red) for charging status |
| 4 | Li-ion Battery Protection Circuit based on XB3303A |
| 5 | NTC Thermistor, muRata NCP18XH103F03RB, 10kΩ ±1% 3380K |
| 6 | CN3703 Li-ion Battery Charger Controller |
| 7 | USB Type C Socket |
| 8 | CN1 Power Output Socket for Station G1, 1*2P, Pitch=2.5mm |
| 9 | CN3 is a duplicate of CN2 except IO35, 1*10P, Pitch=1.5mm, please refer to the schematic for more information. |
| 10 | CN2 is used to provide battery gauge function for Meshtastic if it is connected to CN2 of Station G1, 1*10P, Pitch=1.5mm |
| 11 | Power Switch for Station G1 |
Additional Information